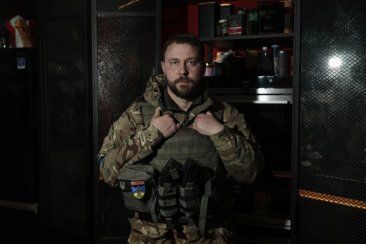 How a forty-year-old father of three joined other civilians to help thwart the Russian Army's attempt to seize Kyiv
On a recent afternoon, a nondescript S.U.V. parked in front of my hotel in Kyiv. Three men wearing Ukrainian military uniforms sat inside it. They motioned for me and Volodymyr Solohub, a local journalist and colleague, to get in the back seat. Moments later, we were speeding through Kyiv's abandoned streets, exempted from a thirty-six-hour curfew imposed by the mayor in anticipation of increased Russian shelling. The boom of outgoing and incoming artillery fire bounced off the huge concrete Soviet-era apartment buildings around us, making it impossible to tell where it was coming from or where the strikes might land.
Ivan Mishchenko, a forty-year-old father of three with a few gray hairs in his beard, drove the car. A suit hanger dangled from the back of his seat. Stoic and calm, he seemed like a fatherly figure to the two younger men in the car. Mishchenko is one of some two hundred Ukrainian Supreme Court judges, the rough equivalent of a federal judge in the United States. For the last month, he has served in a unit of civilian soldiers who use small, store-bought drones to try and locate Russian military positions. A fellow-member of the unit—the twenty-four-year-old anti-corruption activist Roman Ratushnyi—rode in the front passenger seat. The two men met in Mishchenko's courtroom, when Ratushnyi was trying to stop developers from replacing a vast public park in Kyiv with high-rise apartment buildings. The third soldier in the car—a tall, bald, smiling twenty-eight-year-old—gave his name as "The Sergeant," and told me that he was the only one who had been in the country's military before the war.
Their makeshift unit is an example of the mass movement of civilians from across Ukrainian society into the country's military effort. Even before Vladimir Putin ordered the invasion, sending tanks, heavy weaponry, and at least a hundred and fifty thousand troops across the border to topple Ukraine's democratically elected government, President Volodymyr Zelensky had called on people to volunteer with the Territorial Defense Forces, the country's reserves. Mishchenko was one of roughly a hundred thousand citizens who signed up to fight, man checkpoints, and help in any way that they could.
After only three weeks in the Ukrainian military, the judge seemed surprisingly at ease. At checkpoints throughout the city, Mishchenko rolled down his car window and joked and laughed with the armed men waiting at the barricades. At a previously agreed-upon location in the city's northern suburbs, members of the military met with Mishchenko and told him that day's password for checkpoints. Wary of Russian spies and cyber surveillance, they had adopted a simple, old-fashioned system of meeting in person.
As we drove north to the front lines, the men used Google Maps on an iPhone to find their way. In the trunk were several small, roughly foot-long drones that were equipped with cameras, bought from a local store. We stopped one last time by the side of the road, as the group contacted the commanders on the front to let them know that we were coming. The fear of attacks by Russian saboteurs already planted inside Ukraine was potent enough that soldiers might open fire on vehicles approaching from behind their own lines without warning.
After waiting by the banks of the Dnipro River, the volunteer soldiers smoking and staring across the wide expanse of peaceful water, brilliant blue on a sunny day, we got the call to finally move forward to the front. For the last few miles, as the forest thickened on both sides of the road, the men played a song on the car radio, and we all fell silent. It was a Ukrainian song, composed by Ihor Shamo with lyrics by Dmytro Lutsenko, called "How Can I Not Love You, My Kyiv!" It became the capital's official anthem in 2014. "It's like the hymn of Kyiv," the judge said. Ratushnyi gently hummed along with a verse from the front passenger seat.
As we approached a bridge over a small tributary, just beyond which the Russians had dug in, Mishchenko turned the car up a narrow, muddy pathway through the trees. Now within reach of Russian artillery fire, the vehicle could be targeted at any time. We were all silent. We pulled to a stop near the top of a hill and covered the S.U.V. with a camouflage net, so that it disappeared into the green and brown of the surrounding woods. The thump of artillery rounds exploding in the distance echoed through the trees.
Mishchenko, who had already been wearing body armor as we drove, put on a helmet. An AK-47 rifle hung over his left shoulder. Scanning the trees, he lit a cigarette and explained that he had broken a promise to stop smoking. "One pack, two packs a day. I don't know, I don't count," he said, and sighed, looking at nothing in particular. "It was a resolution I made with my son. I told him, 'I will quit,' and I did. He was very proud of me." For the first time since meeting Mishchenko, a week earlier, I saw sadness flash across his face.
Ihad first met Mishchenko in a tiny café in Kyiv—a rare open shop in the bombarded city's cobblestoned center. Bearded, dressed in military fatigues, and toting his Kalashnikov, Mishchenko looked nothing like his official portrait, in which he is clean-shaven and clad in an elegant black robe and white scarf. Squeezing past the espresso machine and cash register, he walked across the room, sat down, placed his gun on his lap, and ordered an Americano. "When the war started, it was Thursday, I think," he began.
He told me that his generation's fight for Ukrainian democracy had begun eight years earlier. On February 22, 2014, a popular uprising in Ukraine finally succeeded, when the country's pro-Russia President, Viktor Yanukovych—who, together with his allies, looted up to a hundred billion dollars in Ukrainian government assets—fled after three months of protests in Kyiv's Maidan square. In the months that followed, opportunities for young, talented Ukrainians opened up, especially in formerly closed-off institutions plagued with nepotism and corruption, such as the judiciary. Mishchenko was a graduate of Kyiv University, a successful lawyer, and a young man already learning to adapt well to change."I had my own litigation company, and I think we brought something new—our new vision, new perspective—to the system," he explained to me. "If you didn't have some, I don't know, relatives or political ties, it was closed. But now things changed, so anyone can possibly join." At the age of thirty-six, he was named a judge and assigned to hear commercial cases.
This February, on the day that the Russian Army invaded, Mishchenko was at the office. Rushing home, he and his wife piled their three children—two boys and a girl ranging in age from ten months to twelve years—into his car and drove five hundred miles to the Polish border. After a tearful goodbye, he drove back to Kyiv, stopping on the way in the western city of Lviv to load his car with medicines. The government had made it compulsory for all men aged eighteen to sixty to register with the military and serve if needed. Mishchenko had no intention of waiting for the phone to ring. He volunteered. "Of course, at first they said I don't have military experience," he told me, sipping his Americano. "I would have to be somewhere at the headquarters, like, drinking coffee and bringing papers from one table to another. So then I called Roman, and he gathered a group of people."
He was referring to Ratushnyi, who joined us in the café that morning. Smaller than Mishchenko, Ratushnyi has pale skin and a shy demeanor. The judge encouraged him to speak with me, smiling and nudging him. Ratushnyi was sixteen when the Maidan uprising exploded onto the streets of his home city of Kyiv. He took part, learned community organizing from those around him, and was inspired. Crucially, he discovered that he was good at it. After the revolution, Ratushnyi formed his own organization, Save Protasiv Yar, which took to court the developers who were trying to destroy a major public park in Kyiv and build towering apartment blocks. The developer was a close ally of President Zelensky's, and the case landed in Mishchenko's court last year. In March, 2021, the government accused Ratushnyi of vandalism during a protest over the park's redevelopment.
"I was not jailed but in house arrest, because of my activism," Ratushnyi said, in the coffee shop. "Maybe you remember this action near the Presidential office?"
"They painted the door that leads to the Presidential office," Mishchenko interjected, trying to explain.
"Not me but . . ." Ratushnyi quipped, before laughing.
"And the police decided that it was a very serious crime," Mishchenko said, with a knowing smile.
When military commanders told Mishchenko that he would have to take a desk job in the country's struggle against Russia, he immediately thought of Ratushnyi. The revolution of 2014 had taught a generation of Ukrainians how to organize and improvise collectively, and, most important, that they could win; Mishchenko assumed that a dedicated community activist would somehow be involved in the armed resistance. He was right. Ratushnyi was buying small drones from local stores to fly over Russian positions, documenting their locations and movements. The judge and the activist formed a unit. "So we just come to the military guys, to intelligence guys, and we say, 'We are a group, we have some training, we have equipment, we have cars, drones, we have everything. So what tasks can you give to us?' " Mishchenko explained.
After commanders accepted the group's offer, Mishchenko began sleeping every night in a makeshift base with other volunteers, preferring not to be at his old home. The judge was remarkably matter-of-fact when discussing the complete transformation of his life. When I quizzed Mishchenko on how well he had adapted to military life, he paused to consider his answer, looking down at the table. "Adaptation is the thing that made us on the top of the food chain, right?" he said. "So this is our main asset as human beings. If you can adapt, then you can survive. If you can survive, then you can defeat your enemy."
The existential nature of the war drives him and other Ukrainian volunteers. When asked why they are fighting, they often seem bewildered by the question. "If we lose this war, then there will be no Ukraine. And that's why it is so simple—life or death," Mishchenko said. "Do we have a country or do we have no country at all? Because, of course, Russia will destroy everything. It's what they do—they just destroy." The camaraderie that he felt with other volunteers helped with morale, he said, but, most of all, knowing that his family was outside Ukraine helped him focus. "The main thing for me is to know that they are in a safe place," he said. "That's why it is much easier to do all this stuff." He declined to say where in Europe his wife and children were, and seemed uncomfortable talking about them, more because he missed them than out of fear for their safety. After I asked a few questions about them, he changed the subject.
In the forest near the front lines, Mishchenko opened the trunk of the car and pulled out a small drone. (He asked me not to give specifics or identify the brand, out of concern that the Russians would try to track or jam it.) Ratushnyi walked off into the woods, disappearing for a few minutes, and returned with another young soldier. The two of them led us to the top of the hill. We heard the explosion of incoming shells, not far to the east. The Ukrainians feared that the Russians could detect the drone after it began flying and fire artillery at where it was being guided from, Ratushnyi explained, as he knelt in the soft, leafy grass and preparing the machine for flight. It suddenly began to whirr, kicking up leaves and twigs as it lifted off, then it rose just above the trees and disappeared in the direction of a Russian-occupied village. The men hoped to locate a building that Russian troops were believed to be occupying. After filming the area with the drone, they would take that footage to commanders in Kyiv, to help increase the accuracy of Ukrainian artillery fire. This is rudimentary reconnaissance warfare for 2022, but helpful for the country's defense effort.
While Ratushnyi operated the drone, Mishchenko offered to bring us to the front line and introduce us to soldiers posted there from the 72nd Mechanized Brigade. After walking through the woods for only a few minutes, we came upon a unit so well camouflaged that it was nearly invisible. Half a dozen men hopped out of a trench, their faces covered in mud and their cheeks sunken, and greeted the judge warmly. Cooking stoves, containers of water, and a motorcycle were all hidden beneath branches and leaves. Amid a scene otherwise reminiscent of the wars of a century ago, a modern, high-tech anti-tank rocket system sat under a tree. These sophisticated weapons, manufactured mainly in the U.S. and U.K. and provided to Ukraine as military aid, had helped these exhausted soldiers block the Russians from taking the capital. Handheld, roughly four feet long, and simple to operate, they enable a single soldier on foot to destroy tanks, armored vehicles, and even helicopters. After a few minutes, the frontline soldiers told us to leave. The Ukrainian government had banned reporters from embedding with their military units. The field commander was nervous that we were there.
When we returned to the car, Ratushnyi and the sergeant were watching footage on the small screen of the drone, which was now resting on the hood of the car. Ratushnyi was disappointed. The new footage hadn't clearly identified any Russian positions. Driving back toward Kyiv, the three men debated what it meant. "The most possible version of what happened here is they retreated but they left some forces here just to distract our forces," Ratushnyi said. Days later, satellite imagery confirmed that the Russian military had pulled back and was no longer trying to capture Kyiv. Instead, it was concentrating its forces in the country's east. The assessment of the improvised intelligence unit had been correct.
A few days later, I met up with the judge in his family home, in Kyiv's historic city center. He had been back only once since the war began, he told me, to pick up some things. "I don't like to be here. It's too quiet," he said, standing in the doorway between the living room and an entrance hallway filled with children's shoes, coats hanging on the wall, and a stroller. The apartment was in an ornate nineteenth-century building, its renovated interiors filled with exposed brick and black cast-iron fittings. Child-friendly foam mats covered parts of the tiled floor in the living room. Toys lay across the sofa and floor. Baby clothes were folded in a pile on a nearby chair, signs of a rushed exit. Inside the modern kitchen, there was a steel cooking station with red accents, rows of cabinets, and a dining table, with a baby's high chair at the end of it. "Don't photograph that, please," Mishchenko said. "I don't want it photographed empty."
As Mishchenko stood in his abandoned apartment, sadness washed across his face for the second time since we met. "I keep expecting my son to come running around the corner here," he told me, pointing to the living room. "He used to always greet me when I came home." Mishchenko said that he was determined to return to the bench after the war. "I hope so. I miss my work," he said. "Sometimes, especially in the first week, I even had thoughts about the cases I was working on. I was thinking, On this case I have to use this legal precedent, or something like that." His voice trailed off for a moment. "I want my family to return. I want a normal, peaceful life. But first we have a job to do." Three days later, Mishchenko and Ratushnyi officially joined the Ukrainian military's 93rd Mechanized Brigade. They are professional soldiers now. They continue to adapt.
«The New Yorker». April 11, 2022