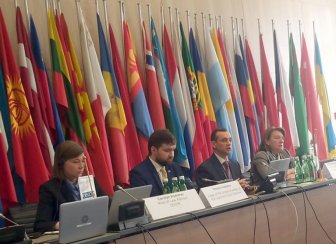 The Russian army continues to commit genocide against the Ukrainian people. Russia's violations of international humanitarian law are visible with the naked eye: destroyed towns and villages, rocket attacks on residential buildings, schools, hospitals, churches, playgrounds, brutal killings of civilians, including women and children, forced displacement of civilians and abuse of prisoners. During the full-scale invasion of Ukraine by Russia alone, the Office of the Prosecutor General registered more than 82,000 crimes of aggression and war crimes and more than 17,000 crimes against national security as of 25 April 2023. Dmytro Hudyma, a judge of the Grand Chamber of the Supreme Court, spoke about this during a side event "The Right to a Fair Trial in War Crimes Cases: Standards, Challenges and Good Practices".
According to the speaker, the main challenges faced by investigators and prosecutors during the pre-trial investigation of criminal proceedings on war crimes include lack of access to the scene of the crime, inability to conduct the necessary initial investigative and procedural steps in a timely manner, and interviewing victims and witnesses who are in the temporarily occupied territories or who have been forcibly displaced to Russia.
Dmytro Hudyma also provided statistics on the most common types of war crimes committed by the Russian military, broken down by region of Ukraine. According to this data, the Russian army committed most of these crimes in Kharkiv, Kherson, Donetsk, Luhansk, Zaporizhzhia, Dnipro and Kyiv regions.
Russia's armed aggression against Ukraine has also had a devastating effect on the judiciary. As of today, according to the judge, 87 appellate and local courts (11%) do not administer justice, and 99 court buildings (13%) are damaged or completely destroyed. Some judges and court staff, including those of the Supreme Court, joined the Armed Forces of Ukraine. Others are helping the Ukrainian army and those affected by the war. "But even under conditions of martial law and hostilities, Ukrainian courts are doing everything possible to ensure a speedy and fair trial," Hudyma said.
The national legal system is able to overcome many of the challenges. At the same time, according to the speaker, the ability of the national legal system to prosecute "big fish" with appropriate immunity is limited when it comes to punishing the crime of aggression. The capacity of international institutions is also limited. Therefore, according to Dmytro Hudyma, the establishment of a special tribunal for the crime of Russian aggression against Ukraine is urgently needed. This is the goal that should unite the efforts of international and Ukrainian institutions and civil society. After all, according to Leonardo da Vinci, "He who does not punish evil, commands it to be done".
The event took place in Vienna, Austria, in the framework of the Supplementary Human Dimension Meeting on Torture and Other Grave Breaches of International Humanitarian Law and Gross Violations of International Human Rights Law, organised by the OSCE Office for Democratic Institutions and Human Rights.