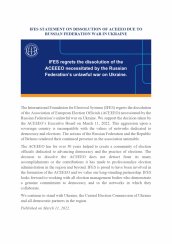 IFES STATEMENT ON DISSOLUTION OF ACEEEO DUE TO RUSSIAN FEDERATION WAR IN UKRAINE
The International Foundation for Electoral Systems (IFES) regrets the dissolution of the Association of European Election Officials (ACEEEO) necessitated by the Russian Federation's unlawful war on Ukraine. We support the decision taken by the ACEEEO's Executive Board on March 11, 2022. This aggression upon a sovereign country is incompatible with the values of networks dedicated to democracy and elections. The actions of the Russian Federation and the Republic of Belarus rendered their continued presence in the association untenable.
The ACEEEO has for over 30 years helped to create a community of election officials dedicated to advancing democracy and the practice of elections. The decision to dissolve the ACEEEO does not detract from its many accomplishments or the contributions it has made to professionalize election administration in the region and beyond. IFES is proud to have been involved in the formation of the ACEEEO and we value our long-standing partnership. IFES looks forward to working with all election management bodies who demonstrate a genuine commitment to democracy and to the networks in which they collaborate.
We continue to stand with Ukraine, the Central Election Commission of Ukraine and all democratic partners in the region.
Published on March 11, 2022.